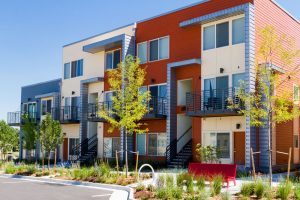 AAA Action Painting is a full-service commercial painting company.  We have over 40 years of commercial painting experience including interiors and exteriors. Our team of professional painters in Boise will make sure the work is completed on schedule and on budget. We believe that the best surprise is NO surprise so you will appreciate our "no hidden costs" approach.
Our resume includes everything from churches, prisons, apartment buildings, shopping malls, and everything in between. You need the manpower to get the job done efficiently, keeping the disruption to a minimum.  We can do that, and we do – every day! With all commercial properties, staging and scheduling are crucial. Our professional painters will work with you to determine the best time, dates, and sequence of work to achieve outstanding results without interrupting your business. We know that you have work to do. It's why we schedule around your working hours if needed. Our teams can go in after hours, on weekends, etc. We do our best to accommodate you because, like us, you have a business to run and we respect that.
Check out our client list.  We've earned our reputation of being "Boise's Best" commercial painter.