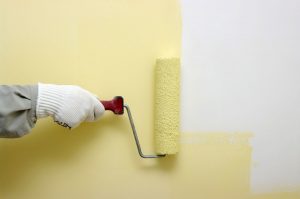 We always back brush/back roll the first coat of paint!  This process is recommended by siding manufacturers, most local paint companies and AAA Action Painting.
Why do we spend the extra time to take this important step?
Interior and Exterior paint jobs last longer
Paint or stain fills in splits and fractures in wood
Finished product looks better
Interior and Exterior paint protects and insulates better
Most painting contractors in Boise, Nampa, Meridian and the Treasure Valley do not back brush/back roll, so their bids may be less expensive.  The fact is that this extra step is labor-intensive and costs more, so they do not include it in their bids.
Listen to what your paint contractors are going to do for you.  If it is not on your bid, you will not be receiving this very important extra process. Ensure you know what kind of paint job you think you are purchasing!
Warranty
In addition to any material warranty that may apply to the paint and other products used on your job, for a period of 36 months from the date of completion of our work, this painting limited workmanship warranty shall apply if the paint applied by the above-named, hereinafter referred to as "contractor", erodes or peels to expose the substrate.  Should this happen, the contractor will furnish labor and materials to correct the condition, free of charge under the following conditions.
To obtain service under this limited warranty, the owner must give written notice to contractor identifying the original work performed, the date of job completion, and the nature of the problem.  Such written notice shall be given to the contractor at:  P.O. Box 2635, Eagle Idaho 83616.
This limited warranty does not cover (1) peeling resulting from the breakdown of any underlying, older paint film; (2) peeling on any horizontal surfaces exposed to standing water such as concrete or wood porches and decks and handrails; (3) any structural cracking of the painted surfaces. Roof coatings are not included.
NOTICE TO OWNER:  This limited warranty covers workmanship only and excludes all materials used.  The paint and other materials selected are NOT covered by this limited warranty.  Please refer to the manufacturer for details about any warranties that may apply to the materials used on your job.  This warranty gives you specific legal rights. You may also have other rights which vary from state to state.  There are no warranties which extend beyond the description on the face hereof.
THIS WARRANTY IS IS NOT TRANSFERABLE to succeeding property owners for the remaining term at the time the property changes ownership and under the same conditions.